search

Engine Optimization

Learn why we're the best choice for 5-Star SEO (Search Engine Optimization) and web design in San Luis Obispo and Santa Barbara counties. Search engines focus on delivering the best possible user experience. We focus on delivering that experience. We adhere to a strong ethical approach to SEO practices, so your money is well-invested.

In recent years, Google has made waves with their algorithm updates, rewarding websites with a solid content strategy, improved rankings, and visibility. It's about making it easier for search engines to rate and rank your website amongst the competitors. In the current search climate, it's more important than ever to invest in unique, compelling, web friendly web design, and optimizing for your new clients.

We believe in transparency with regard to our SEO program. We want you to be aware of your statistics, your placement, and your ongoing analytics reports. We provide tutorials to help you understand your analytics and encourage open lines of communication with regard to changes in your company that will affect the clientele base you seek.

Strong ethics is our approach with SEO and all business interactions. We have been successfully serving San Luis Obispo, Santa Barbara, Santa Maria, Paso Robles, Arroyo Grande and International clients since 2007. (805) 801-7120
Analytics Tracking Installation on all your website pages.
Monthly Detailed Analytics Report emailed directly to you.
Alerts you (and us) to traffic high or low trends.
Access to daily Analytics data generation.
Video tutorial describing how to get the most of your monthly Analytics reports.
Site Map generation and implementation to allow browser 'spiders' to easily and regularly crawl your website (two key components to successful ranking).
Enrollment into the Webmaster Tools-A watchful eye that generates continuous reports and red-flag errors on your site. These are problems that, if gone unattended, will result in lower ranking results with browsers. Your site will be monitored and problems resolved.
Monthly browser submission to keep your website current and active with browsers.
Enrollment into listings like Goggle Maps, whitepages.com, Superpages, and many more.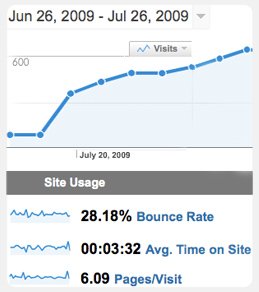 Analytics can help you monetize your business goal and determine your Return On Investment.
Are you wasting money on pay-per-clicks?
Are your online Yellow Pages and other paid online listings worth your advertising dollars?
Is the money you're spending trying to direct people to your website actually getting you traffic? If so, are those visitors your optimum target audience for your business goals?
What percentage of people who find you by certain criteria make a purchase, request services, book a reservation, or contact you?
How many purchasers are return visitors versus new visitors? Who should you be directing your attention toward: new visitors, return visitors, or both?
Should you reevaluate or refine your target audience?
How many people who came from a particular website purchased products from your site, contacted you, made a reservation, etc?
What percentages of people who visit your site make a purchase, book a reservation, or request services?
How many more targeted visitors per day would it take to meet your sales goals?
What aspect of your visitors increased or decreased daily, monthly, or annually?
What kind of information on your website generates more quality visitors?
Analytics Generate Essential Information
How people find your site.
What keywords they use to find your site.
How long they stayed on your site.
How many visitors 'bounced' out of your site.
How many pages they visited.
What sites are sending you traffic.
Which country, city, state or region your visitors live in.
Track, daily, detailed information about your visitors, their computers, their browsers, their internet speed...etc.
Generate a side-by-side comparison of targeted dates.
...and much, much more.