San Luis Obispo -

Local Attractions
Consider this your San Luis Obispo survival guide...
Having moved to San Luis Obispo in 1988 to attend California Polytechnic State University, I learned (long before Oprah) that San Luis Obispo (SLO) is undoubtedly the "happiest place in America." The cost of living-especially housing-in San Luis Obispo is high, but it's a conscious trade-off we all make when deciding to stay or move to this lovely city on the Central Coast of California. Having become a local connoisseur of the flavors San Luis Obispo has to offer, I'm happy to share my top picks for good eats, shopping, and local atmosphere here on the Central Coast.
Oprah says San Luis Obispo is the Happiest City In America.
San Luis Obispo Facts and Demographic Stats
San Luis Obispo's 44,000 residents have a median age of 27 years old!
San Luis Obispo's current average income is $61,000. That's skewed, I'm sure, due to the high local student population.
Altogether, 258,000 people live in SLO County.
California Polytechnic State University (Cal Poly), San Luis Obispo, has a population of 18,000 students, more than 10,000 students attend Cuesta College, a San Luis Obispo community college. While Cal Poly is considered the more elite education; however, I've attended both colleges and found and felt the learning environment and semester system at Cuesta College, San Luis Obispo facilitates a high quality education.
Favorite Local Restaurants in San Luis Obispo
1. Novo Restaurant - San Luis Obispo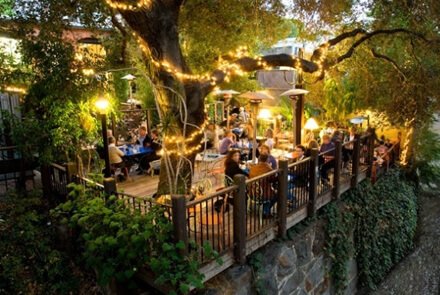 Voted the local favorite year after year, Novo Restaurant offers an iconic dining experience in the heart of downtown. It's where global cuisine combines with a gorgeous patio creek setting, intimate bar lounge, and downstairs cellar. Locals connect here, relax here, and hold business meetings here. The salmon bisque is the local favorite, but you'll enjoy virtually anything on the menu.
2. Guisepes - San Luis Obispo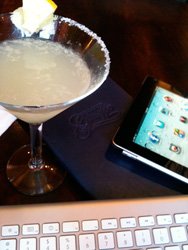 This is another downtown SLO favorite to gather for business meetings, to meet friends for cocktails, or to enjoy fine dining. This is a relatively new addition to San Luis Obispo, although locals were already flocking to the original Guisespes in Pismo Beach for one of the best dining experiences on the Central Coast. The menu is described as Italian indicative to the Pugliese region in Italy- prepared with genuine and natural ingredients and methods. Their happy hour is one of the best deals in town.
5. Thai Palace - San Luis Obispo
I stopped trying to dine at Thai food restaurants in other cities because they never measure up to Thai Palace-just steps away from Guisepes (above) on Court St. The huge curved bar features a solid wood, hand-painted mural imported from Thailand. I love the coconut-milk based seafood soups, but everything is fresh and prepared to perfection. The staff is exceptional.
4. Eureka Burger - San Luis Obispo
A one-of-a-kind burger bar experience serving a wide selection of Angus Chuck beef burgers, gourmet salads, our signature handcut fries, a distinctive assortment of the best craft beers and whiskeys in a warm atmosphere surrounded by cool vibes. This place seats massive amounts of people and large groups in a great social atmosphere. I especially love that the menu offers grass-fed beef and bison options.
5. Goshi Sushi - San Luis Obispo
Among many exceptional local sushi bars in San Luis Obispo, Goshi has stood the test of time as the favorite local pick for its quality sushi, authenticity, and cozy sushi bar atmosphere.
Just outside of SLO but worth the drive...
1. Tognazzini's Docside Restaurant - Morro Bay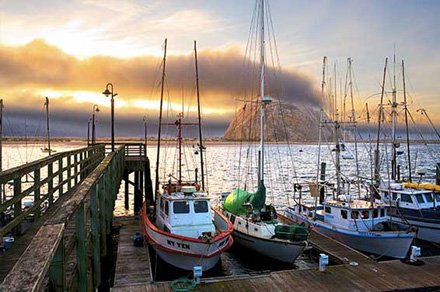 Actually, this my #1 favorite place in San Luis Obispo County (Central Coast). This is a secret local restaurant offering live music daily and the freshest fish you'll find anywhere. Tognazzini's offers a casual dining experience right on the water with an incredible view of Morro Rock. The seals come and peek their huge heads up frequently. To order, I ask them to pull something recommend something out of the case and grill it for me, but the BBQ's oysters with butter and garlic are amazing and huge!
Tognazzini's takes dog friendly to a whole new level. It even has leashes attached to the deck for you to use and plenty of doggie snacks inside. The owner, Captain Mark, is a local fisherman. You'll usually see him there with his Golden Labs. Tognazzini's has an indoor dining experience next door, but the outdoor one is the real gem. Tell them Jayne Wayne sent you!
2. Rosas - Pismo Beach
Located in Pismo Beach, Rosas restaurant is much more than a local favorite fine-dining Italian restaurant. Rosas is family owned and operated, community-minded, and maintains an amazing staff.
Second-generation Executive Chef Douglas Cristallo MacMillan Doug is an Award-Winning and European-trained chef, and he delights his guests with the highest quality and finest blend of traditional Italian cuisine. He has a larger-than-life personality which is only partly why Rosas has has captured the hearts loyalty of the Central Coast. It maintains an award-winning dining experience, and its to its generosity toward the local community is truly felt.
5. Zorros
Without a doubt, the best Mexican food on the Central Coast. Locals love it and congregate here to enjoy the perfect weather paired with delicious Mexican food. It's just what you would expect from a Mexican food restaurant just a block or two from the beach: casual, fun, delicious! Wine margaritas are served.
Favorite Boutiques & Shopping in San Luis Obispo
1. Ambiance - San Luis Obispo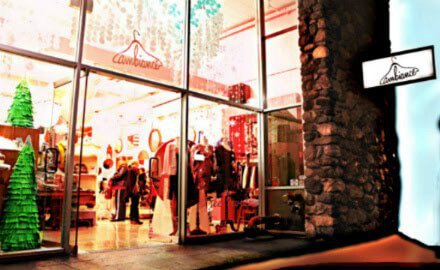 #1 by a mile - Ambiance has a great staff of salespeople who will help you get a stylish look going for any age. The staff truly work with you as stylists. It is really the best place to shop in town for quality women's clothes, shoes and accessories. Come to Ambiance for Nanette Lepore, Free People, and Desigual. Those are my favorites, but I'm sure you'll find plenty of your own favorite designers. Owner Kannyn January lives for fashion, but she is also a mother of two and has a realistic approach to fashion. She and her staff are gifted teaching us gals how to embrace our unique figures.
2. Romp - San Luis Obispo
Don't miss Romp in Downtown San Luis Obispo for hand-selected, handmade Italian footwear that isn't carried anywhere else. We're lucky to have this truly exclusive collection of unique, fashion-forward footwear for women. Women drive from LA and San Francisco to buy at Romp. Owner Karen English has a selection worth driving hundreds of miles for. Since wearing Romp shoes, my feet don't hurt no matter how much I walk, and my Romp shoes and boots never wear out.
5. Coverings - San Luis Obispo
Coverings has a great variety of fashionable clothes, shoes, and accessories. I find quality basic essentials here.
Favorite local places to stay in San Luis Obispo
1. The Cliffs Resort - Pismo Beach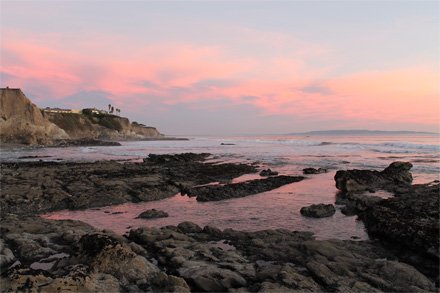 This is the view at the Cliffs Resort. Even if you're visiting San Luis Obispo, I'd recommend staying here. Enjoy the stunning 10 minute drive to San Luis Obispo, and return to breath-taking ocean view and sunset on your way back to the Cliffs Resort in the evening. This Pismo Beach hotel sits on its very own bluff, overlooking its very own beach-that you can walk to in just a few steps. It's crazy how dog-friendly they are. As part of your room fee (which is not that bad!) they even walk your dog for you and provide bowls and a bed.
2. Le Petit Soleil - San Luis Obispo
Step inside the cobblestone courtyard and find yourself transported to the rustic charm and colors of Provence. Freshly brewed coffee and a full gastronome breakfast will be served to you each morning in our inviting dining room, or in the sun filled back patio. Every evening you can relax and enjoy a tasting of Local and French wines paired with delectable appetizers. I think this is the best bargain in San Luis Obispo when you consider all the perks and yummy treats they offer. It's cozy and has a lot packed in to a small corner of San Luis Obispo-right next to Splash Cafe.
Favorite pet-friendly locations in San Luis Obispo and Central Coast, CA
1. West End Espresso - San Luis Obispo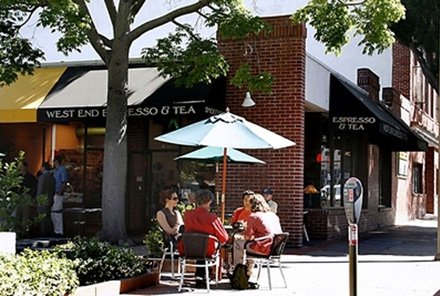 Providing the bright spot in any day. serving patrons 7 days a week, indoors or outdoors in a creekside setting. West End Espresso San Luis Obispo features high-speed internet access, a gourmet selection of coffee and loose-leaf teas, and friendly comfortable atmosphere. I get the organic Ming-jasmine tea latte and love the fruit smoothies.
2. Novo Restaurant, San Luis Obispo
5. The Cliffs, Pismo Beach
Favorite Local Hangouts
1. Linnea's Cafe - San Luis Obispo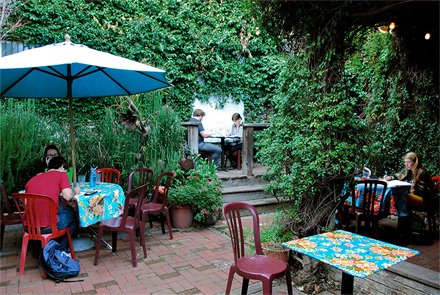 Linea's Cafe in San Luis Obispo is a gathering place for more quiet conversation, music, social events and of course the sharing of food and drink especially on the lovely patio out back. Linnea's has had a unique loyal following for many years. They have poetry reads, music on some nights, and serve delicious beverages and pastries. Linnea's compact kitchen even prepares delicious, simple breakfast and lunch menu items.
2. Novo Restaurant - San Luis Obispo
2. Court Street - San Luis Obispo
Since this corner was developed from an open parking lot, and shops like Banana Republic, Pottery Barn, and Sephora were added, Court Street has become a place to congregate for locals of all ages. Musicians tend to play at the end by Pete's coffee-especially during Farmer's Market. Carolers sing here over the holidays. Students love to hang out outside Yogurt Creations. My favorite is Powell's Sweet Shop. The gelato is wonderful. Ask for samples!
Places you should see/visit while visiting the Central Coast
1. San Luis Obispo Farmer's Market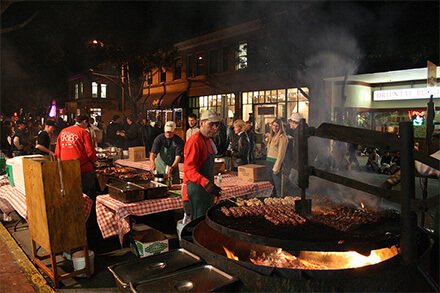 World Famous. Every Thursday from 6-9, experience the sights, sounds and social atmosphere that makes this a premier event on the central coast! Enjoy live music, fresh and local produce and spectacular food to tantalize your senses. Try parking by the Bank of America on Santa Rosa St. Don't forget to get cash at the ATM if you need it while you're there!
2. San Luis Obispo Performing Arts Center (The PAC)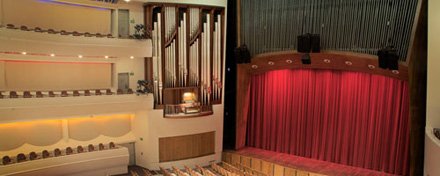 The Performing Arts Center, San Luis Obispo is a state-of-the-art performance facility located on the beautiful Central Coast of California at the campus of California Polytechnic State University (Cal Poly). Open since September of 1996, the Performing Arts Center is San Luis Obispo's crown jewel. There is not a single bad seat in the house from where we can watch some of the best artists in the world perform.
5. Mission San Luis Obispo de Tolosa - San Luis Obispo
The fifth California mission founded by Father Junipero Serra, Sept. 1, 1772. Cornerstone of the town. Numerous events are held in the mission plaza throughout the year: The Taste of SLO, Great Pumpkin Contest, I Madonnari chalk drawing festival, Bike Night, and Concerts in the Plaza to name a few.
4. Montana De Oro State Park - Los Osos
This park features rugged cliffs, secluded sandy beaches, coastal plains, streams, canyons, and hills, including 1,347-foot Valencia Peak. Naturalists and backpackers enjoy the solitude and freedom found along the park's trails. There are also mountain biking and equestrian trails. Equestrians can arrange to keep their horses in pens in the park and ride on the trails and beach. It's incredible.
5. Bubblegum Alley - San Luis Obispo
The locally created, "most-talked-about landmark" must-see: long alley lined with chewed gum left by passers-by. Mentioned in tourist guides globally.
6. The View from Bishop's Peak - San Luis Obispo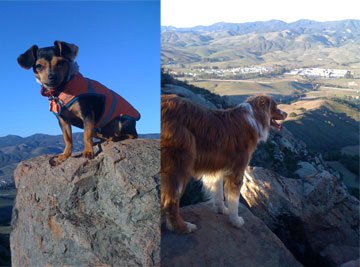 The tallest of the the "Nine Sister", a chain of similar peaks stretching to Morro Bay - great way to see all of SLO and beyond. Worried about making it to the top? Consider Chuy did it! Bring water-especially if you're taking your dogs.
Where locals 'slum' it in San Luis Obispo
1. McCarthy's - San Luis Obispo
The epitome of local soul. This is our one place where you'll find locals who have been in San Luis Obispo for many years-decades! Traditionally, locals and college students begin the St. Patrick Day holiday at 6 am to gather at McCarthy's for green beer. Other bars have joined the tradition, but McCarthy's was where it all started.
2. Bull's Tavern - San Luis Obispo
Best local dive: strong drinks, fun people, fast service, fast women (yes, I said it). The bull-sweat is a local tradition for those turning 21.
5. Frog and Peach - San Luis Obispo
Located on Higuera Street next to Novo Restaurant, Frog and Peach has a great window view of the heart of San Luis Obispo. It's perfect for people-watching. This simple pub is rumored to have a ghost residing in its basement. Although most of the clientele know nothing of the specter below them, several of the staff acknowledge its existence.
Best Local Bank on the Central Coast
1. Heritage Oaks
This is the best business-focused bank that combines a warm local-feeling environment with big bank perks like web connect, affordable wire transfers, online banking, remote deposits, and much more.
Great Wifi
1. West End Cafe - San Luis Obispo
2. Blackhorse - San Luis Obispo (three locations)
(they just remodeled and have super-fast Wifi and outlets everywhere)
San Luis Obispo Organics
For a grocery store experience, there are two; however everyone LOVES our Farmers' Markets found all over the county.
1. New Frontier (a more modest-sized Whole Foods)
A small, local hidden treasure of knowledgeable staff, organic produce & meats, holistic/alternative supplements, bulk foot items you'll find hard to locate anywhere else.
5.
San Luis Obispo has a large population of individuals who choose organic foods. Our farmer's markets are famous and spread throughout the county. You can find a farmer's market on 6 out of the 7 days of the week throughout San Luis Obispo County.
San Luis Obispo Farmers Market Association operates the following five markets:
Local Events
San Luis Obispo International Film Festival - March
As a premiere 5-day annual event, the SLOIFF showcases contemporary and classic film screenings in a wide variety of venues, from the city's classic art deco Fremont Theatre, to the popular independent Palm Theatre, with a variety of unexpected venues from the wine country of Paso Robles to the seaside towns of Avila Beach and Pismo Beach.
San Luis Obispo Great Pumpkin Contest
The San Luis Obispo County Farm Bureau started the Great Pumpkin Contest in 2006. The contest began as an outreach activity geared towards non-traditional agriculturists. According to Steven Knudsen, the contest founder, a non-traditional agriculturist is someone who enjoys eating and buying food locally.
The Farm Bureau's goal in starting the contest was to teach the local community more about agriculture. "Agriculture is best learned by hands-on activities. By giving them the opportunity to learn about growing just a pumpkin, it opened up the opportunity to teach them more about agriculture in general because it is the same basic principle for growing pumpkins as it is to grow a lot of different agriculture commodities," said Knudsen.